This course is designed for anyone at the beginning stages of starting their own fashion business. My goal is to give you a broad overview of how a fashion collection is created, and insider tips on how to get started.
Speaking from designer's perspective, we will also touch upon your customer, sales, production, marketing, resources for business support and financial organization, and so much more!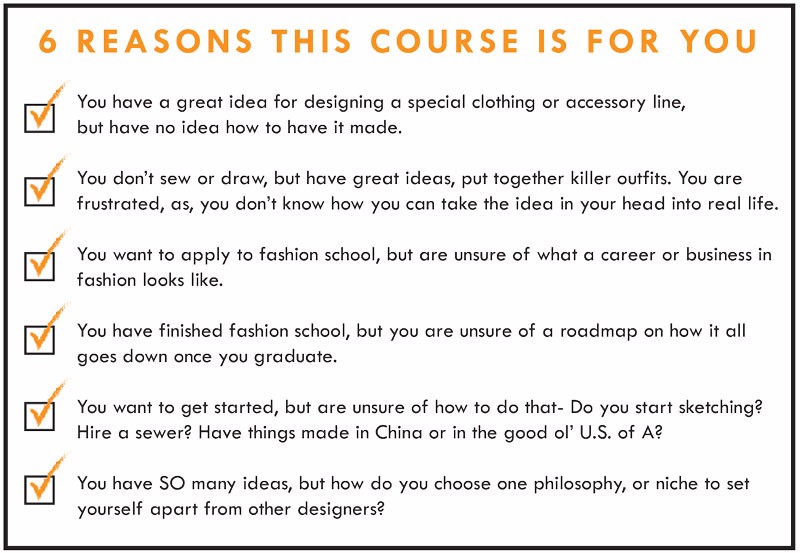 http://www.stitchnstylestudio.com/

Applications:
Video
Slideshows
Resource Guides
Checklists
Course Structure:
MODULE #1-
WHO WILL YOU SELL TO? IDENTIFYING YOUR PLACE IN THE MARKETPLACE
In this module, you will learn how to identify your customer, understand your competition to create your own personal edge, and how to use global trends to carve out your own profitable niche in the market. Worksheets and resource lists will be provided to help you get crystal clear on who you need to sell to, and where to find them.
MODULE #2-
BRANDING AND MARKETING
In this module, you will learn how to market yourself and develop the branding for your company- both digitally and in the real world. Specific examples and resources will be provided to get you started right away.
MODULE #3-
GET THE EXPERIENCE AND SUPPORT YOU NEED
In this module, you will learn about different ways to fund your company or individual projects, as well as how to get paid training to acquire necessary skills to compete in the fashion world. Multiple free and inexpensive resources will be provided so that you can get started with little initial financial investment.
MODULE #4-
SETTING UP YOUR BUSINESS- DESIGN AND PROCESS
In this module, you will learn the steps to create a clothing or accessories collection. From design and inspiration, to sourcing factories and sales, this will enable you with the general knowledge and process on how to get your business rolling.
My biggest goal is to have you succeed…so I hope you will sign up and get started to that I can help you.
See you at the studio!
---
COURSE PRICING
$199 FOR THE ENTIRE COURSE
Watch it in your time, your leisure.
Psssst....did you want to be eligible for a FREE Fashion Business Assessment?
All you have to do is be a subscriber to the Stitch n' Style Studio.
Only subscribers get access to this, but you must register here: